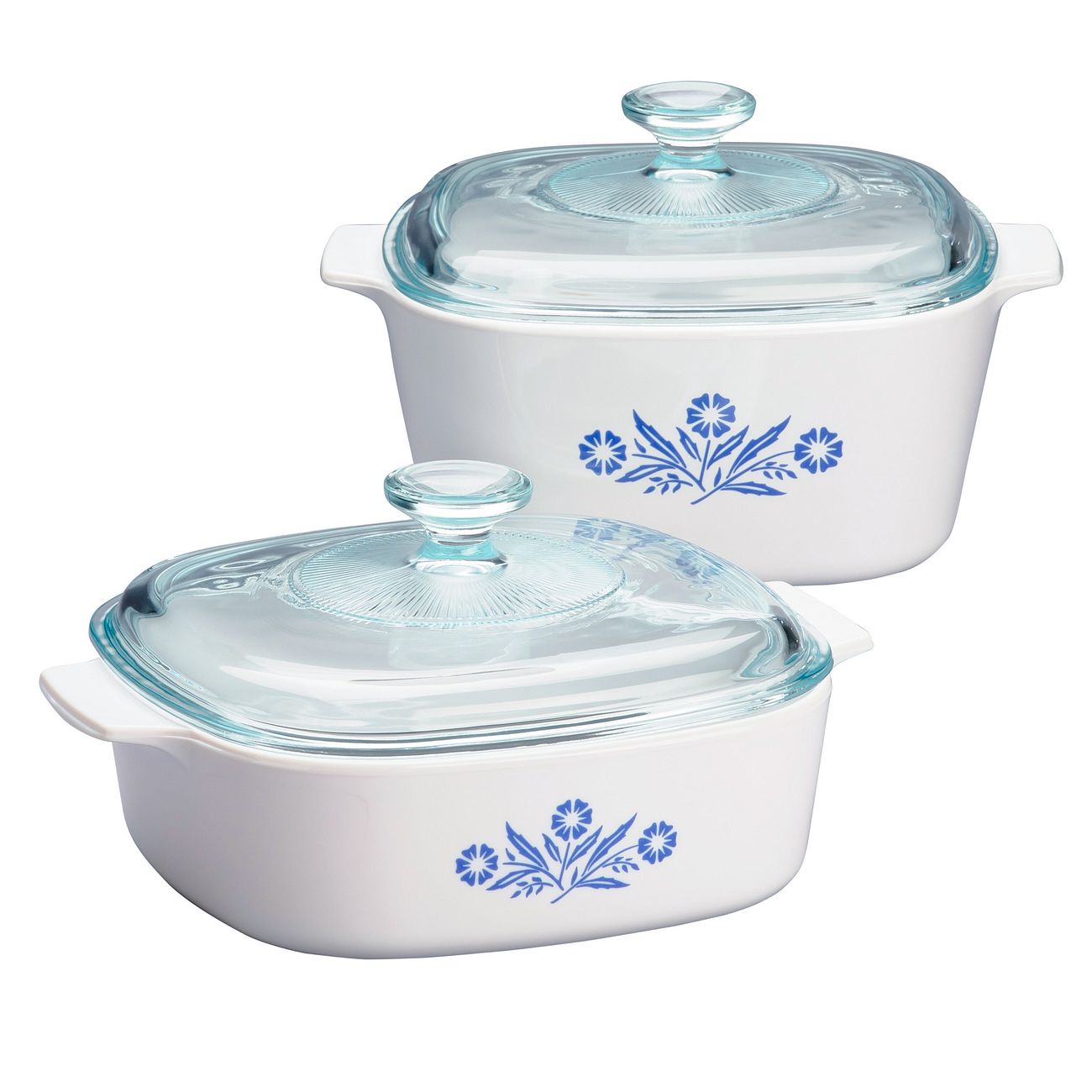 In March 2019, Better Homes and Gardens published a story stating, "According to antique experts, your mum's old CorningWare cookware – the casseroles with the orange and yellow flowers – is highly collectable and worth thousands.".
Similar stories appeared in various publications and soon the Internet was buzzing about vintage CorningWare selling for thousands of dollars.
Most of these stories seem to originate from an interview with Dean Six who said "One piece of CorningWare, in a pattern not widely produced, sold on eBay recently for $7,000," adding, "It was a 1970s product that fizzled.". The quote was reported by Susan Pierce in a 2014 piece she wrote for the Chattanooga Times Free Press. The quote from Six seems credible given his credentials. At the time, Pierce reported, "Six is a nationally known glass expert who will be featured during the Houston Museum's 40th annual antiques show and sale, which opens Friday in Stratton Hall. He divides his time between serving as director of the Museum of American Glass in West Virginia for two weeks a month and working for the world's largest supplier of china, crystal and flatware, Replacements LTD in Greensboro, N.C., the other two." Six is also author of, "Mid-Century Modern Glass in America" (December 28, 2014).

But before you get excited and start checking your kitchen cabinets, you should know KHOU in Houston, Texas says claims of CorningWare being worth thousands of dollars are false.
To prove their point, KHOU visited with an antique dealer who, they say, has seen plenty of CorningWare over the years; Keith Hardy, the owner of Blind Girl Productions Resale & Vintage, has been collecting such pieces for over a decade. "I guess about 11 years ago, my mother gave us a few pieces and we brought them home. This invokes a lot of memories. There are people known to collect it. That's what it did: It reminded them of their childhood back in the 1960s and 1970s," Hardy said.
Hardy uses a CorningWare catalog to help guide him in identifying items and assessing their value. "I definitely would not pay over $50 to $100 for different items," Hardy said. Including new pieces in their original boxes. KHOU says they showed Hardy some of the ads and articles circulating the internet, including one eBay listing a CorningWare casserole dish for $10,000. "I cannot see paying $10,000 for that," Hardy said. The value on that piece was listed in the CorningWare catalog at $10 to $12. "Corning Pyroceram Cookware" by Randy & Debbie Coe (Nov 28, 2008) and "Complete Guide to Corning Ware & Visions Cookware" by Kyle Coroneos (Aug 1, 2005) are two such price guides.

Another source, CorningWare 411, features a post by Shane T. Wingerd, pleading with readers to "Just STOP" promoting the idea that vintage CorningWare is worth thousands of dollars. Wingerd says, "I have been collecting for almost 20 years and I guarantee that your grandmother's Cornflower casseroles will not make you rich."
Here at HearthBeats Vintage Kitchenwares, the most we've sold a CorningWare dish for is $50 US. In researching the topic ourselves, we performed a search on eBay for "CorningWare" which returned a list of over 24,000 items. Of those marked sold, several appear to have been listed for thousands of dollars but were later relisted for lower prices or the listings were simply removed. The two most expensive items listed as sold that actually showed a winning bid amount received only 1 bid each. Likewise, the sellers had no other listings and only a few, if any, positive reviews as sellers. We found similar results for many of the highest priced items listed as sold and find them highly suspect.
The most likely to be true listing we found was for a 5 piece set of casserole dishes with lids in the Wildflower pattern (also known as Spring Bouquet) produced from 1978 to 1984 that shows it sold for $510.00 plus $45.00 shipping. The item received 23 bids. The seller has a positive feedback score of over 600 with a feedback percentage of 99.1% in the past 12 months. The sale price puts the per item price at $102 before shipping which is in keeping with what we see from long standing sites such as Replacements, Ltd.

For reference, a new plain white 4-piece Corningware Casserole Set (2 casseroles with 2 lids) from Corelle is currently priced at $105 with free shipping.
In summary, while your beloved vintage CorningWare baking dishes may be worth hundreds of dollars, it is highly unlikely they're worth thousands. If anyone is getting rich selling vintage CorningWare it's eBay, from collecting listing fees.
Recommended Reading
VERIFY: If you think your vintage CorningWare is worth $10,000 — think again!, by Cheryl Mercedes, KHOU *11
The vintage casserole dish that keeps on cooking, just like Grandma did, by Becky Krystal, The Washington Post
People really do love their classic CorningWare dishes, by Becky Krystal, The Washington Post
Antiques & Collectibles: Seven decades on, CorningWare still wears well, by Sandy Erdman, Post Bulletin
Your old CorningWare could be worth thousands of dollars, by Rebecca Lowrey Boyd, Better Homes and Gardens
Corning Ware collectibles: Glass expert explains why there may be money in your kitchen cabinets, by Susan Pierce, Chattanooga Times Free Press
Nostalgia alert! You can buy blue-and-white CorningWare again, by Julie Pennell, TODAY
CorningWare Is Re-Releasing Its Iconic Cornflower Pattern Dishes, by Kaitlin Gates, SimpleMost
Websites
http://www.bluecornflower.com/